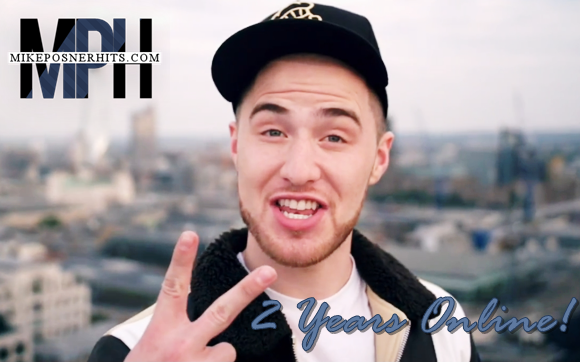 Two years ago today,
MikePosnerHits.com
opened! I started this fansite on February 23rd, 2011 for Mike Posner fans all around the world to get the latest news and more on Mike and his music. Within the past couple of years this site has grown into what you see now, beginning with some content but building into a much bigger fan source as time went on. As of now, there are over 3,800 files in the
photo gallery
, over 500 YouTube and Vimeo
videos
collected in playlists, and
lyrics
from all of Mike's songs & collaborations.
Mike Posner Hits was first created on October 27th, 2010 when I started a new account on Twitter.com (@MikePosnerHits) to help support Mike and his music and to meet and connect with other fans. I came up with Hits from "Hits…Straight Hits", a phrase that Mike always says when referring to his music. Then finally, after thinking about it for 3 months and figuring out where and how to start a website, MikePosnerHits.com opened on February 23rd, 2011. I wanted Mike's fans to have a fun site to visit that will provide them with all the news, info, photos, videos, and everything related to him. I've been having a lot of fun running this site and helping to get the word out about him and his music and sharing it with everyone.
All thanks to the visitors, those that contributed news, photos and graphics for the site and the photo gallery, my hosts StarsZZ & Hollywood, WordPress, and of course to Mike Posner for being such an inspiration to me and so many. Now, just like day one, the site is here because of love for Mike Posner and his music and true dedication. I appreciate everyone visiting the site and I hope that everyone loves it and continues to return back on a regular basis.
Thank you for visiting! Brains Up! 🙂
xoxo Christina
Like MPH on Facebook, Follow on Twitter and Tumblr: