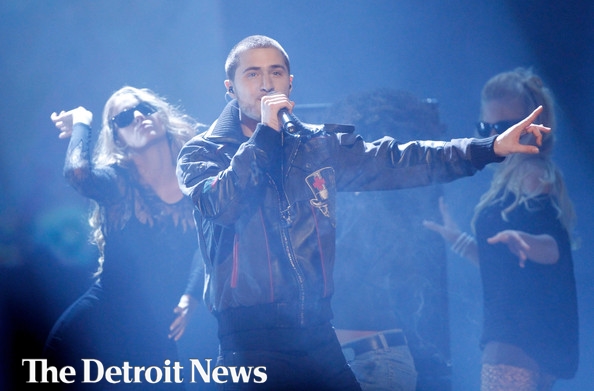 Last summer when he was touring arenas with Justin Bieber, Mike Posner had a segment in his opening set where he sang his nostalgic single "The Way It Used to Be" accompanied only by his piano.
It was a stark contrast to the rest of the Southfield-bred singer's high-energy set, which centered on bouncy pop and rhythmic hip-hop. That intimate moment served as inspiration for Posner's current tour, a small acoustic outing that drops by the City Theatre in Detroit Sunday night.
"My normal shows are like half-party, half-musical concert," says Posner, on the phone last week from Valparaiso University in Indiana, where he was warming up for a performance that night. "People are having fun, I'm having fun, but at times the party is more important than the music."
That is not the case at the acoustic concerts, where Posner will perform stripped-down versions of his songs on piano and acoustic guitar — the way they were written. Over the last few years of touring, the 26-year-old gained the confidence to perform in this manner and says he's grown enough as a pianist, a guitarist and a vocalist to pull off the shows.
"I knew I could do it, but I don't know if the world necessarily knew I could do it," he says. "I think this is well within my skill set."
Fans have had a hard time seeing Posner's skill set at work in recent years, as the follow-up to his 2010 album 31 Minutes to Takeoff has been four years in the making. The time between projects allowed Posner to write for several artists — he penned Bieber's smash "Boyfriend" and Labrinth's hit "Beneath Your Beautiful" — but has been frustrating for him as a solo artist.
"I feel not good about it," he says, judiciously. "I definitely want to get my fans some new music ASAP. But there are politics, other things at play."
No release date has been set for Posner's sophomore album, Pages — which is completed, "sequenced and everything," Posner says.
Since his last album, Posner experienced a radical personal transformation.
"I went from not really believing in anything to believing in a lot," says the Duke University graduate, who struggled with depression as a teen. "Save Your Goodbye," from 31 Minutes to Takeoff, addresses his battles with depression. Some of those issues began creeping up on him after his 2010 commercial breakthrough, when "Cooler Than Me" became a Top 10 hit (and at one point, a clue on Jeopardy!).
Sensing a disturbance in his friend and frequent musical collaborator, Detroit rapper Big Sean gave Posner several books to read and shared stories about his own triumphs and successes.
"I started to see some of the lessons he was using held true in my life as well," says Posner, citing an Albert Einstein quote where he said you can look at life as if nothing is a miracle or everything is a miracle. "That's when I started to move from Way 1 to Way 2."
Now Posner practices Transcendental Meditation twice daily and finds himself in a happier place. He's also keen on giving back. He has a plan in place that allows for one meal to be served to a child in need with each copy of Pages he sells.
Now all Pages needs is a release date, but don't fret about the details, Posner urges.
"I've got a plan, don't worry about me," he says.
Mike Posner
8 p.m. Sunday, April 6
City Theatre
2301 Woodward
Detroit, Michigan
Tickets $20
(313) 471-6611
ticketmaster.com