The year is 2015, and I know everyone (especially me) is wondering and asking the same exact question…
"When will Mike Posner release new singles and his sophomore album?"
Maybe that time is finally coming after all. I've come across a couple of Tweets on Twitter within the past week by Julie Pilat (Head of Music, Curation, and Artist Development at Beats Music) and John Taylor (Head of Talent at Philymack Inc.) that may confirm my speculation. Check out the Tweets below!
I hope that we'll hear a confirmation real soon about new music by Mike Posner himself. *crossing fingers*
WE MISS YOU, MIKE POSNER!
Mike Posner made it on The Early Registration's 'The 30 Most Anticipated Albums of 2015' list at Number 24!
24. Mike Posner – Pages


Photo by Dan Garcia/The Early Registration

Release Date: TBD

There was a time when only Detroit natives and Duke Blue Devils knew who Mike Posner and Big Sean were. Then in a short period of time, both saw their hard work pay off as Big Sean's signing with Kanye finally propelled him deep into the rap game and Mike Posner's hit "Cooler Than Me" blew up and was the song of the summer in 2010. Soon after the success of "Cooler Than Me", Mike released his debut album '31 Minute to Takeoff', a great followup to his successful dorm room recorded mixtapes 'A Matter of Time' and 'One Foot Out the Door'. Since then, Mike has kept relatively quiet, touring college campuses, producing and writing for others artists (such as Justin Bieber and Maroon 5) and preparing for his second studio album 'Pages'. Named after the pages in his journal which contain Mike's thoughts, song lyrics and more, Mike has recorded over 100+ songs since 2010's '31 Minutes to Takeoff' and 'Pages' will feature the best of the bunch. Expect great things from this album and a lot of star power as the singer/producer's sophomore album is scheduled to include Justin Bieber, Big Sean, 2 Chainz and more. – The Early Registration
Just wait until you hear what @MikePosner is coming with next pic.twitter.com/pBZvhKQ1BA

— juliepilat (@juliepilat) January 16, 2015
Mike Posner is an excellent songwriter. His new music is incredible. You can't wait to hear it. #trustme @MikePosner

— John Taylor (@JohnLloydTaylor) January 22, 2015
Click on each image to view the screen shot of each Tweet.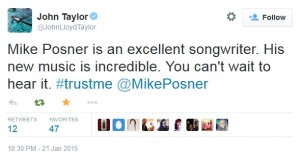 Do you all think that Mike Posner will finally release his sophomore album this year? Leave your thoughts in the comments section!