Happy 7th Anniversary, 31 Minutes To Takeoff!
It's seven years to the day since Mike Posner released his debut album, 31 Minutes To Takeoff.
Mike co-wrote and co-produced each track and collaborated with songwriters and producers including The Smeezingtons (Bruno Mars, Philip Lawrence, and Ari Levine), Benny Blanco, Greg Kurstin, Cisco Adler, Teddy Riley and a few others. The record features guest vocals from Boyz II Men.
The album debuted at number eight on the US Billboard 200, with first-week sales of 29,000 copies.
I love every single track on the album, but my #1 favorite song has always been "Bow Chicka Wow Wow." I've LOVED that song since the very first time I heard it! 🙂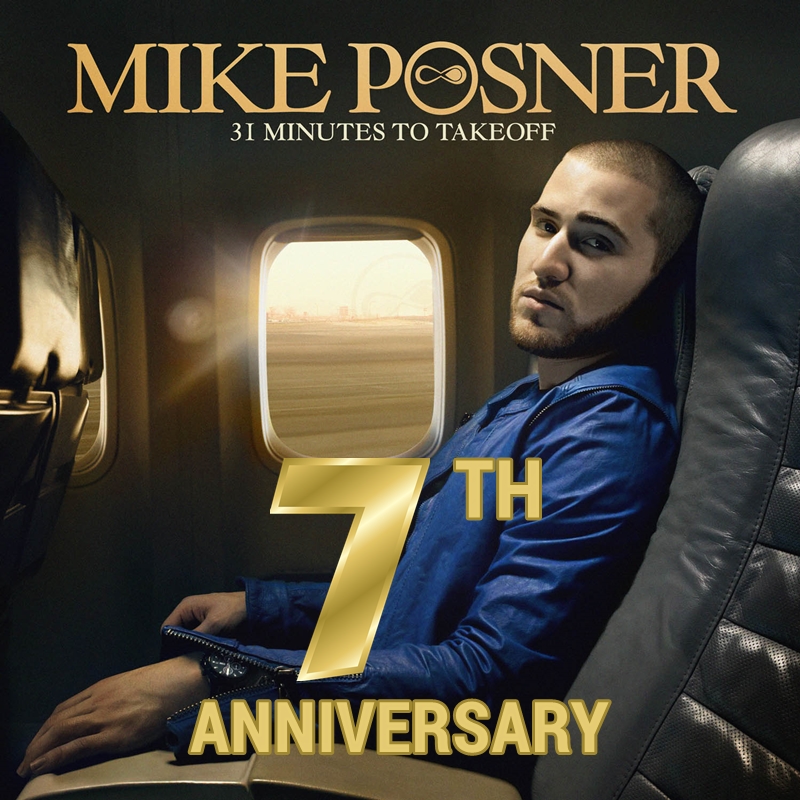 Mike Posner – 31 Minutes To Takeoff
Released: August 10, 2010
Buy: Amazon (CD) • Amazon (MP3) • Google Play • iTunes
31 Minutes to Takeoff
Please Don't Go
Bow Chicka Wow Wow
Cooler Than Me
Déjà Vu (ft. Boyz II Men)
Do U Wanna?
Cheated
Gone in September
Save Your Goodbye
Synthesizer
Delta 1406
Falling
Bonus Tracks:
Another Love Song (iTunes Bonus Track)
XO (Bonus Track from other countries)
What You Need To Know About This Album
31 Minutes To Takeoff is the debut studio album by American singer Mike Posner. It was released on August 10, 2010 by J Records. The album includes the singles "Cooler than Me", "Please Don't Go", and "Bow Chicka Wow Wow".

Posner's idea for the album was to make something that didn't sound like anything that was already out. In an interview with Billboard, Posner argues: "My music doesn't sound like anyone else's, and it's important for me that it stays that way", and that "I want to make songs that will bring people together", Posner has stated that he draws a great deal of influence for his music from his hometown "Where I grew up was a huge influence on my music." He also said that "A lot of people have trouble putting into words what my music is, and it's because of where I grew up". Meanwhile, speaking to Blues & Soul about the album's stylistic diversity, he described it as "A 21st Century album – meaning that, instead of listening to 12 different artists on your iPod, with my record you can just listen to ONE! Because every song is refreshing and different from the one before, and at the same time BETTER than the one before!"

The title of the album, 31 Minutes To Takeoff, is in fact a reference to something that occurs exactly 31 minutes into the record. As Posner himself describes it "Something happens 31 minutes into the record … All I can say is that both the listener and I will be in a higher place when it's over". 31 minutes into the CD, during "Synthesizer", there is a sound of an airplane taking off. Making the most of his raspy, soulful tenor, Posner relates stories about his life, chronicling his imploded relationships ("Cheated") and his own dubious behavior ("Gone In September"), as well as his struggles with balancing family and career ("Delta 1406") and depression ("Save Your Goodbye"). Other highlights include the libido-driven smash "Bow Chicka Wow Wow", the Ray Lamontagne sampling "Do U Wanna," the flat-out club stomper "Please Don't Go," and the slinky, dream-like "Falling," which Posner describes as a cross between "a girl song and a song about my obsessive ambition to make my mark with music."
The Singles
"Cooler than Me" – Released: April 16, 2010
"Please Don't Go" – Released: June 9, 2010
"Bow Chicka Wow Wow" (ft. Lil Wayne) – Released: February 3, 2011
The Music Videos

Video link: https://www.youtube.com/watch?v=mqWq_48LxWQ

Video link: https://www.youtube.com/watch?v=HpixdTlYlKU

Video link: https://www.youtube.com/watch?v=SWfUp70XMLI